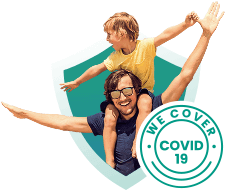 We are the only company to offer
free travel insurance

with medical coverage of up to USD $100,000!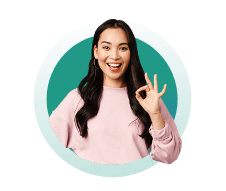 ¡We guarantee the best price on the market!

If you find a cheaper and comparable offer, we'll match it.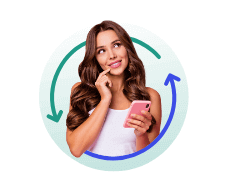 Free Modifications

on all your bookings.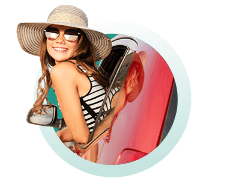 Car rental with
Unlimited Mileage.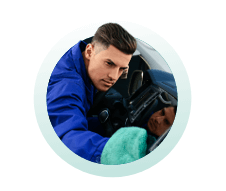 All rentals are
disinfected

before pick up.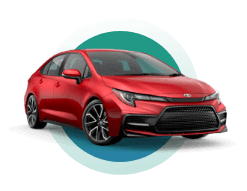 Renting cars in Latin America

for over 10 years
Based on 3312+ reviews
Frequently Asked Questions
01
What are the rental requirements when picking up the rental?
Deposit guarantee: A deposit will be required as a guarantee at the time of pick up. The corresponding amount will be determined by the rental company and will be retained on the credit card registered at the counter.
Driver'slicense: You must provide a valid driver's license (Latin Alphabet) issued in your country of residence. If your driver's license is not in Latin Alphabet, you will be required to provide an international driver's license along with your driver's license. An international driver's license may be mandatory in some areas of the USA. Please verify this information with the corresponding entity before travelling.
Credit card: The reservation holder must have a valid credit card under his/her name. The credit card holder's name must be printed on the card and it must count with sufficient funds to cover the deposit guarantee. The following credit cards are accepted: Visa, MasterCard, Diners, American Express and/or Discover.
Minimum age: The main driver must be at least 25 years old.
Roundtrip airline and/or cruise tickets.
Valid Passport.
03
May I use a friend's or relative's credit card for the deposit guarantee?
The credit card must be under the reservation holder's name. Therefore, a friend's or relative's credit card may not be used for this purpose.
05
How can I cancel or modify my reservation?
You may cancel your reservation using the following link: Cancel my Reservation
To modify your reservation for free, please contact our Customer Service Department.
07
Are all taxes and fees included in my reservation?
Your reservation includes all taxes and fees. Please keep in mind that some taxes and fees must be paid directly at the counter.
09
What is the deposit amount required by the rental Company?
The deposit amount may vary depending on the season, itinerary, and car category. This amount will be confirmed by the rental company at the time of pick up. The reservation holder must have a valid credit card under his/her name. The credit card holder's name must be printed on the card and it must count with sufficient funds to cover the deposit guarantee.
The deposit on the credit card will be released upon the return of the car. However, the funds may take up to 15 business days before they can be reflected on the account.
11
Is it cheaper to book online or through your customer service department?
By booking through our website you will be able to enjoy the best rates and discounts available on the market.
Rent a Car in Palm Beach, Florida

Whether you\'re headed for a relaxing vacation in Palm Beach or are a resident in need of a back-up vehicle, Miles Car Rental Palm Beach is ready to serve you. If you\'re headed to Palm Beach for vacation, you\'ll probably enjoy driving along the coast and hitting all the great beaches. You may want to see the sites and visit a variety of galleries, museums and entertainment centers. Doing so without a vehicle can be difficult and tiring. No one wants to be stuck waiting for public transportation in warm weather.
Miles Car Rental offers a wide selection of vehicles for you to choose from. Perhaps you want to cruise in style with your sweetie in a convertible. Maybe you\'ll be in town for business and want to make a big impression on your colleagues and clients with a luxury vehicle. We are prepared to cater to all your needs and desires. We also have vehicles suitable for families on vacation. Our fleet includes fuel-efficient vehicles to help you cut down on gas costs while you are visiting. Such vehicles are ideal for families who don\'t want to walk around the city with small children.
Choosing an agency for car rental in Palm Beach that residents trust ensures that you can make the most of your vacation or trip to Florida. You have many car rental agencies to choose from. We\'re happy to offer you the highest level of service possible. As a private company, we are able to offer that extra touch of customer service that our competitors lack. We will be available to assist with any issues or questions for the duration of your car rental. If you\'ve never visited Palm Beach before and are not quite sure what you need from a rental car, we will be happy to help you select a vehicle based on your needs.
Miles Car Rental Palm Beach is also proud to serve Palm Beach residents who need a back-up car. Perhaps your car is in the shop and you need a reliable replacement until repairs are made. We are one of the most-trusted agencies for car rental in Palm Beach. We can work with you to understand your needs. We are happy to accommodate the needs of renters who receive reimbursements from their insurance companies as well. If you\'ve been in an accident, you may find yourself without a car. We offer an extensive fleet and can get you into a vehicle today.
Perhaps you\'re a Palm Beach resident looking for a special car to impress a date. We rent luxury vehicles that are sure to put a smile on almost anyone\'s face. Consider a short-term rental to shuttle that someone special around the city. We can also provide excellent back-up cars for residents who have friends or family visiting who they would like to show around the city. We can get you in an SUV or van that can accommodate all of your passengers. Miles Car Rental Palm Beach is dedicated to serving the needs of visitors and residents alike. Call us today to make a rental reservation.